'The College on the Hill'
By Chloe Bell '15
Shadyside Campus has been at the center of Chatham's identity for the past 150 years, and at the heart of alumni's memories. More recently, Eden Hall Campus and Chatham Eastside have offered our students ample opportunities for hands-on learning and academic exploration.

Our campuses lie at the core of everything we've achieved as an institution, and more importantly, they've become forever homes to the students who learn here.

Chatham's campuses are something of legend: real, thriving hubs of academic growth and innovation with borderline mythic histories. Shadyside Campus was one of the birthplaces of women's education and empowerment in Pittsburgh, while Eden Hall Campus helped solidify the region's foothold as a sustainable success story. But perhaps more important than the accolades and recognition our campuses receive, is the intense feeling they evoke in our students and alumni, a feeling that is triggered upon first contact and never seems to fade.
Though I graduated in 2015, and work here now, I had never heard of Chatham when I first visited in 2011. I had come to Pittsburgh to visit Carnegie Mellon and wandered onto the Shadyside campus to visit a family friend. Suddenly, I was enamored; I didn't want to go to school anywhere else. Surveys, focus groups, and conversations all yield the same sentiment. The primary reason students pick Chatham is: "the campus."
"So I looked at Carlow, Duquesne and Chatham. But once I visited Chatham, I was done. It's like being in a treehouse above the city. You can't see that it's there from the road; it's hidden, but two minutes from everything you can experience in city life."
—Allison Marsh '96

It's a space that etches itself into your memory: Shadyside's tree-lined entrance and bright green bends, mansions tucked carefully into wooded coves, deer frolicking with ducks at Mellon Pond. Lynette Charity '74 can recall the drive in perfectly: "When I come down Woodland Road and curve around, there is Fickes over to the left and then Beatty, Rea, Laughlin. I can see it right now, we used to go sledding on trays down Chapel Hill. They used to put bales of hay by the bridge."
For Charity, now an anesthesiologist and public speaker, the campus provided a safe space and a surrogate home: "I see Chatham as so important in my life. Chatham took me out of my neighborhood, and I didn't go home. In the summer time I would house-sit for professors, I even stayed with my roommate in Mount Lebanon. I didn't go home because home was not an inviting place for me."
Seasons of Transformation
Despite the sturdy brick buildings, the campus is surprisingly amorphous. Over the years, it has adapted to suit larger and larger student populations and more diverse academic accommodations all while rising to meet the needs of its current era. Shadyside's ever-changing nature has become evergreen; it is expected that buildings will find new identities, new traditions will arise, and students will graduate. The thing about Chatham that doesn't seem to change is that deep-seated love of place that runs concurrent across generations of alumni.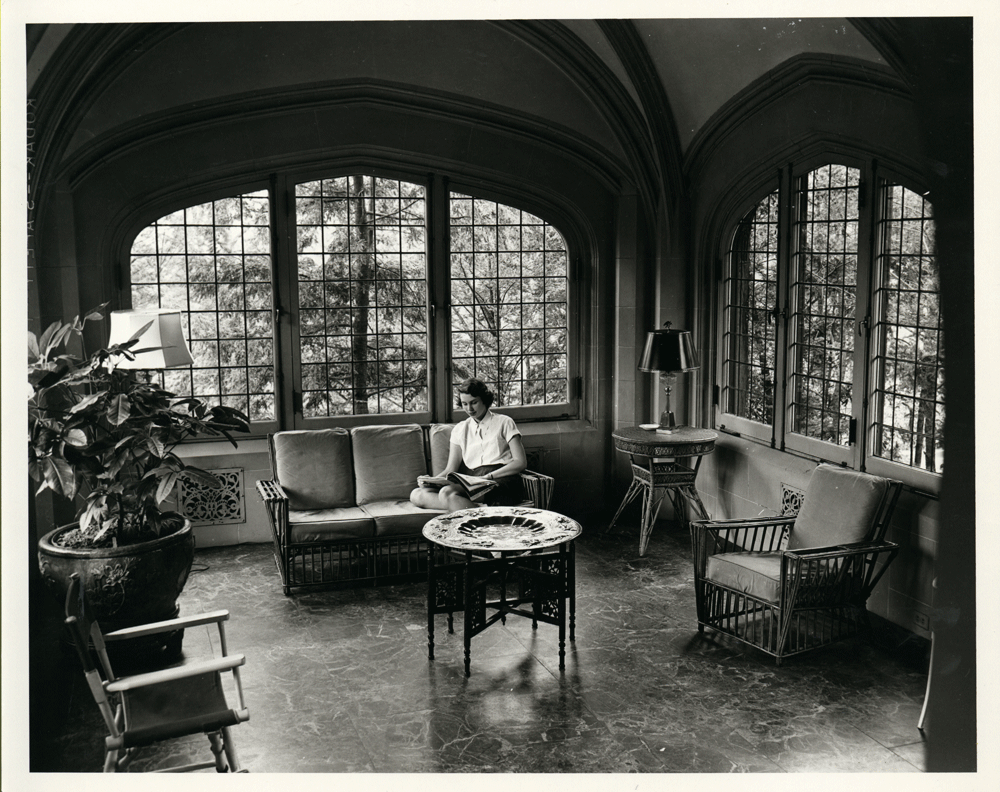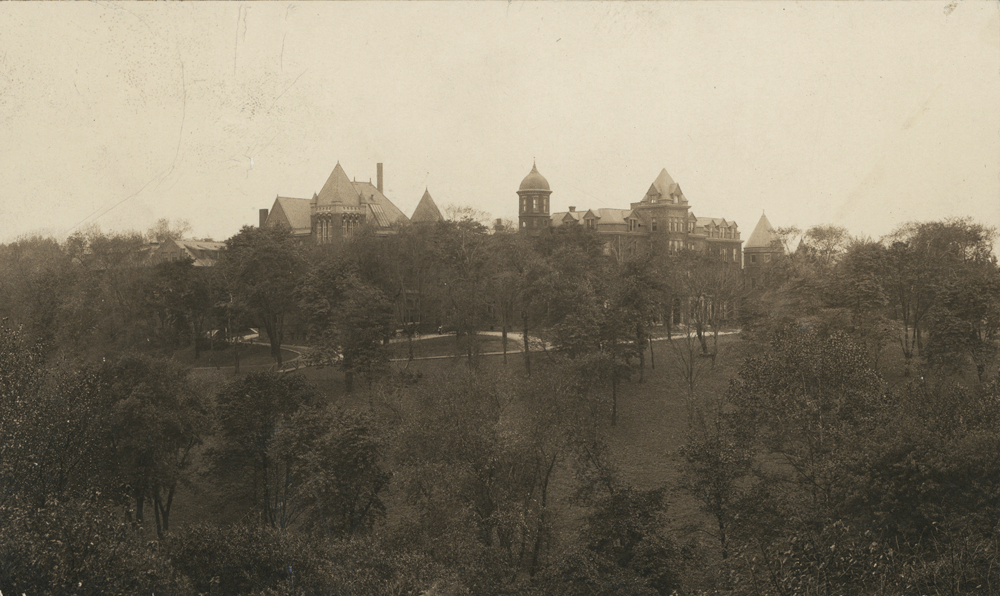 Shadyside's buildings all comfortably evolve into what is needed. Rea House, a gift from James and Julia Rea in the late '60s, was converted into a residence hall. Over the years, its basement has become a space of expression and creativity, walls adorned with the graffitied musings of students and its stage accustomed to hosting open mic nights. Mellon Building was gifted by the Mellon Family to Pennsylvania College for Women in 1941 and initially used as a residence hall before becoming the main administration building. The bowling alley became a broadcast studio and the pool became Mellon Board Room.
Christine Bullock '05 was a unique party to one of these building transformations. Now a fitness and lifestyle guru, she taught yoga to other students in residence hall living rooms and recalls being one of the only people lifting weights in the old Chatham gym (now the Art and Design Center). Bullock was invited to help cut the ribbon for the 2004 dedication of the Athletic and Fitness Center. As a student, she ran through Chatham's campus to Carnegie Mellon's, weaving throughout Squirrel Hill neighborhoods and back again down Woodland Road.
Shadyside's continued renovations never seem to dampen Chatham's spirit, in fact, they lend themselves to a rich tradition of transformative alchemy, one emboldened by the history held between bricks and pasture. To me, going to Chatham always felt like being let in on a secret. Sometimes literally, when reading the walls of the Rea Coffeehouse, a basement doused in the stories, quotes, and spells of Chatham alumni. Sometimes, when you attempted to explain to someone outside of Chatham what it felt like—to feel so safe and so empowered—and they didn't quite get it. It's not a feeling women are granted often. But the magic of the campus is the way that feeling etches itself on your DNA. Women go on to become CEOs, founders, doctors, award-winning artists, scientists, and more because at Chatham, they learned that their intelligence was something worth cultivating and protecting.
Like Shadyside, Eden Hall Campus has long been a space in which women could thrive less encumbered by society's expectations. The farm was originally the summer home of Sebastian Mueller, a man who spent his life working for the Heinz Company, where he provided funding for medical care and financial assistance to Heinz's female employees long before healthcare plans were an option. When Mueller died, he willed the land to Heinz's women employees, so that they could continue to use the space to relax in nature. After decades of providing respite, the Falk Foundation decided to expand the farm's horizons. In 2008, it was donated to Chatham University to become Eden Hall Campus.

The farm's resulting transformation is an unprecedented showcase of sustainable living and learning. Though the space is much younger than the Shadyside Campus, it evokes the same kind of unwavering commitment and enthusiasm. In her sophomore year at Chatham, Megan Gallagher '10 took an organic gardening class at Eden Hall that radically changed her life:
"The year they got the Eden Hall property, we set up the initial garden that was there. That was my first time growing food and being part of a community of people growing food. I was hooked. I switched my major to environmental science and tried to focus on sustainable agriculture and plant physiology to better prepare myself for that route."
Today, Megan runs her own organic farm, be.wil.der, in Natrona Heights. Lavender Sedlock '09 also remembers the early days of the garden and Eden Hall: "The last year I was a student I helped build the first organic garden. We also found all these old cruiser bikes in a shed at Eden Hall and we started a bike club. We had a setup in Rea basement where we would fix bikes for people. We didn't really know what we were doing. It was new to Chatham; it was new to us." The organic farm now delivers apples, beans, beets, and more to the kitchen of the Esther Barazzone Center and there is a student-run bikeshop, Bikeworks, in the basement of Woodland Hall on Shadyside Campus.
Eden Hall was the site of significant evolution at Chatham, marking the first space that was co-educational from the start. Scott Marshall '16 recalls the experience of being the first male undergraduate: "I was sensitive to that issue, it made me stop and think a little bit about what Chatham was, where it's going now. It made me stop and think about the opportunity I was given. I was lucky to finish my degree at a top notch institution, to have the opportunity to mix and mingle and learn from young women that came to Chatham for that women's college experience."
Marshall, who also runs his own farm, learned about trapping rain water in cisterns to water greenhouses while working with Tony Miga, MSUS '12 at Eden Hall. He went on to develop his own technique at Marshall's Heritage Farm. Miga, who is currently the Eden Hall Farm Manager, is a graduate of the Master of Sustainability program's first cohort and has played a critical role in the farm's transformation over the last eleven years. Miga learned how to farm with former Eden Hall farm manager Allen Matthews, and now passes those lessons on: "It's exciting and empowering to show students and visitors, here's what we're going to do. Here's how to do it in a way that benefits the soil and least impacts the woodlands and the watershed that we're in. Here's how we can add organic matter to soil to make it easier for the plants we want to grow."
"Even though it's my job to know everything about this farm, I love that I'll never be sure that I do," says Miga. Eden Hall, like Shadyside, exists in a space of perpetual discovery and transformation. And to the people who spend chunks of their life here, the spaces serve as a living dedication to their own periods of metamorphosis.
Shortly after the Eden Hall property was acquired in 2008, Chatham Eastside followed, providing a new home for the School of Health Sciences and interior architecture programs. Lucie McGrane, DPT '17 remembers arriving at Eastside for the first time after having a rough interview at another school: "I got lost and was an hour late. And then I came in and Katie Noel [former OT/PT Program Assistant] made me feel like the school really appreciated people that have a lot of life experience. I immediately called my mom and was like, 'Oh my god, I have to get into Chatham,' and then I did."
Like Eden Hall and Shadyside, Eastside has undergone its own series of facelifts and transformations, all of which have lent themselves to a more accessible academic space. Colleen Riley, MPAS '19 describes her experience at Eastside:

"We spend most of our days in the new lecture hall, enjoying how big, bright, and open the space is. If we are not in lecture, there is a good chance half the class is studying on the couches or at the tables outside, drawing out anatomical structures on the dry erase boards, or utilizing empty flex classrooms."
There is a phrase you hear often when discussing Chatham: "My Chatham." It's always specific to the speaker and often accompanied by a whimsical look and a staunch denial that anything could ever be as special as the speaker's iteration of Chatham. As I've interviewed different alums, the subject of Chatham's campuses and how they experienced them has come up over and over again. Some of them came to Chatham because it was close to home, some of them came because they wanted to escape home; all of them built their own unique relationship to our campuses, places that became their own kind of home.


Archival images from the collections of the Chatham University Archives & Special Collections.