Copy about Laughlin House
Date of first photo from where (source); Date of second photo (source)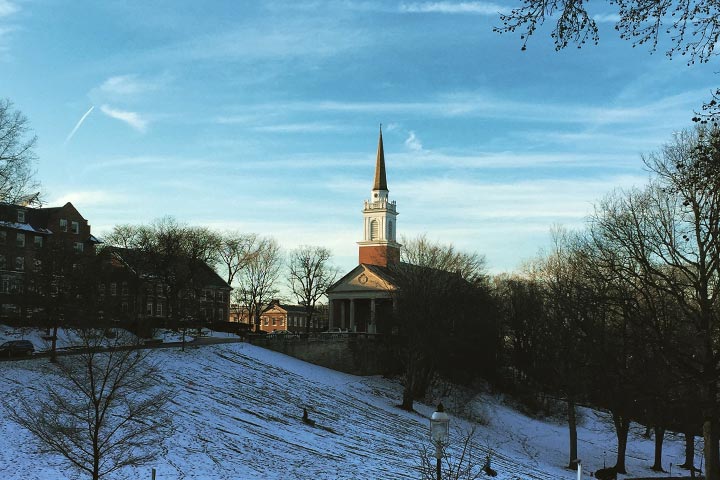 Perhaps our most photogenic landmark, Campbell Memorial Chapel atop Chapel Hill serves as the epicenter for campus wide gatherings like opening and closing convocation. Our chapel was built in 1949 and despite Chatham's non-denominational status, has become a place for learning, sharing, and celebrating our campus culture. Chapel Hill has long been the site of winter sled rides, most famously those on dining hall lunch trays.
(left) Chapel Hill Postcard, c. 1950, University Archives & Special Collections / (right) Chapel Hill, 2016, Instagram @ChathamU
Though our campus is committed to sustained change, a quick scroll across time reveals how similar the landscape remains. Shadyside Campus was previously the estate of Chatham trustee, George Anshutz Berry, the namesake of Berry Hall, when it was acquired in 1870. In the early 1900s, Chatham trustees briefly considered relocating the school to a farm in Aspinwall. Ultimately, the plan was abandoned and good thing—our campus is one of the most cited reasons for why students chose Chatham.
(left) Shadyside Campus, 1956, University Archives & Special Collections / (right) Shadyside Campus, 2016
Nearly every building on Chatham's campus has served as a student residence hall at some point or another. Beatty, Dilworth, and Berry have all served as classrooms, dormitories, and office buildings, depending on the decade. Berry Hall—a predecessor to today's—housed Pennsylvania Female College's first students as well as their classes, library, and dining rooms, simultaneously. Despite the evolution of our versatile mansions, one thing remains consistent: roommates make great study buddies.
(left) Residence Hall, 1939, University Archives & Special Collections / (right) Melissa Puskar '16 and Alexis Rectenwald '16, Woodland Hall, 2016